从红灯记的临行喝妈一碗酒的英译里可以找到
---
所有跟贴·加跟贴·新语丝读书论坛http://www.xys.org/cgi-bin/mainpage.pl
---
送交者: HunHunSheng 于 2005-12-15, 15:34:36:
回答: Hatoyama 由 nm 于 2005-12-15, 15:21:02: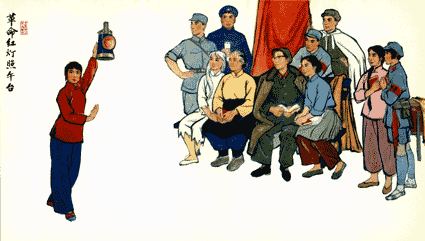 [Li Yuhe: Thank you, ma!]
I drink this wine you give me at parting, ma,
I'm filled with courage and strength.
Hatoyama invites me to a "friendly" feast,
Well, I can manage even a thousand cups.
This is stormy, treacherous weather,
Ma, these changes always keep in mind.
Watch the weather, Tiemei,
When you are selling your wares;
Remember well all accounts.
Beware of curs lurking outside
When you are feeling drowsy;
Listen for the magpie's lucky cry
When you are feeling low.
You must run errands for the family,
Share your granny's burdens and woe.



---
所有跟贴:
---
---
所有跟贴·加跟贴·新语丝读书论坛http://www.xys.org/cgi-bin/mainpage.pl